Does Costco have golf gloves?
Costco sells their own brand of golf gloves, the Kirkland Signature golf glove.
You may or may not have heard about Costco's golf range but it has gained some publicity recently. Using their own brand, Kirkland Signature, they have brought out golf clubs, balls, and gloves among others.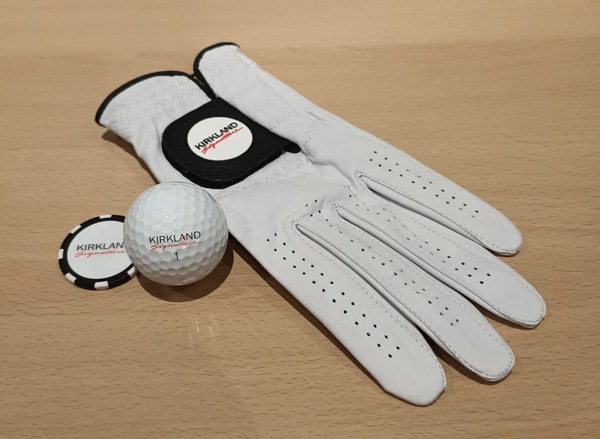 The range offers great value but promises premium performance. With so much fuss being made, I couldn't help but check it out for myself.
After all, if the hype is to be believed, why not save some money with Costco gloves?! Golf is expensive enough as it is. If the same quality is offered at a lower price then I'm game!
It's worth mentioning that I haven't been paid to review these gloves, I just couldn't find a decent review online.
I picked myself up a pack of the gloves and I've been using them for a while now so I feel I can accurately review them. At the time of writing it's cold here in the UK so I haven't been out on the course much.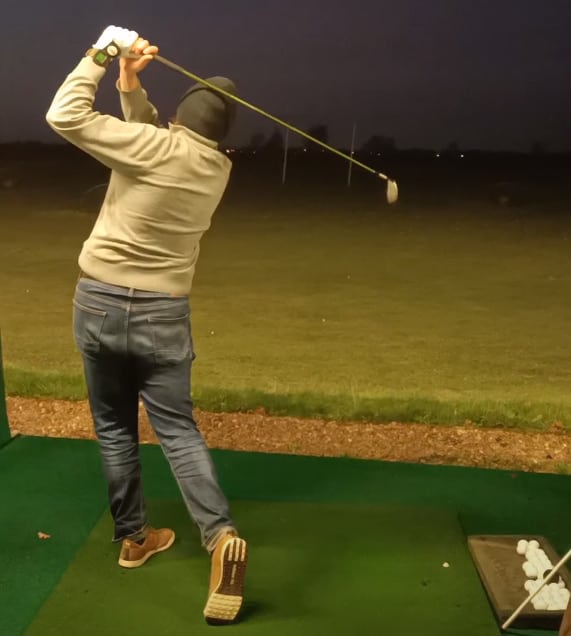 But I've been to the driving range quite a lot, trying to sharpen my game for the coming season. And I've used a Kirkland Signature glove every time I've been. It's safe to say I've hit a lot of balls with these gloves!
So, they're a value golf glove that promises premium feel and performance. But do they deliver?
Costco golf gloves price
Since the costco golf gloves are a value option, I don't think it would make sense to do a review without discussing the price first.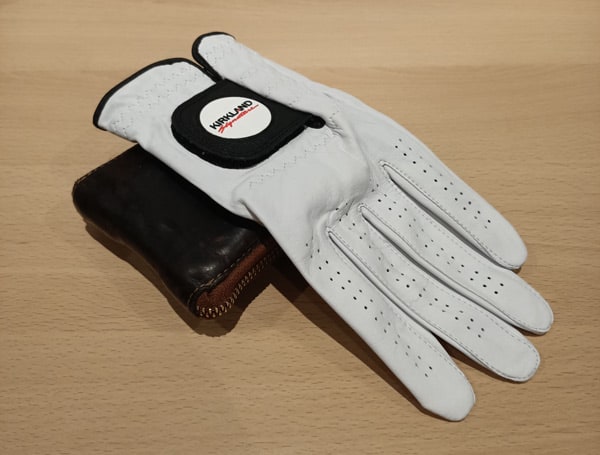 The price will typically depend on whether you order online or in store. It also varies between countries, and so does the number of gloves you get in a pack.
Costco golf gloves UK
Here in the UK, the costco golf gloves are offered in a pack of 3. You should be able to pick them up online or in store.
I went in store and paid about £17, which seemed like a fair price for 3 gloves. Online they tend to be around the £20 mark.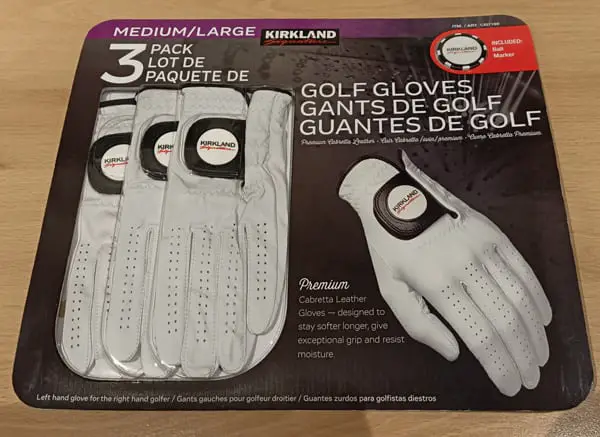 I've noticed that most items at Costco tend to be more expensive online compared to in store. But they do offer free delivery, on the gloves at least.
If you buy online you can also make a free account and order straight away. To go in store you'll need to qualify first, then there's a joining fee. The joining fee for me was around £25.
Costco golf gloves USA
In the US, you could buy the costco golf gloves online for around $23, when I checked. That was directly from their own website and includes shipping & handling.
Anyone can buy from costco online without needing a special acocunt. This is great since it saves you the hassle of setting up, and paying for, a costco card.
Buying online is typically a little more expensive than in store but delivery is free. Costco accounts that allow you to shop in store start at $60. That's quite expensive if you're only buying golf gloves!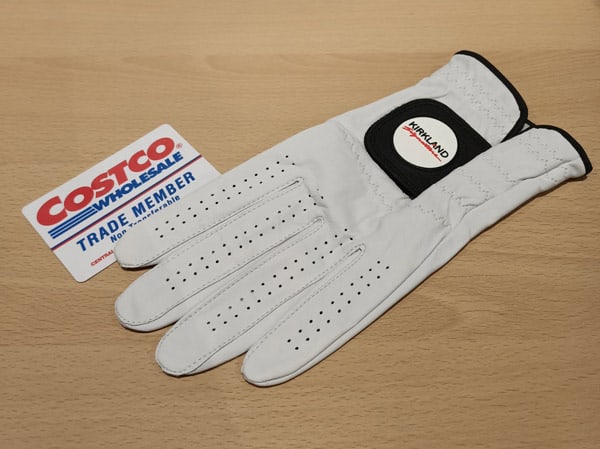 Being from the UK, I can't say how much the costco gloves are in US stores. But given my experience with costco, I would assume that they're a bit cheaper. If you already have a costco card, paying a visit to the store could be worth the trip.
Kirkland Signature golf glove review
So we know that the Kirkland Signature golf gloves are cheaper than the big brand's offerings. But, that doesn't automatically make them good value, unless the quality is there.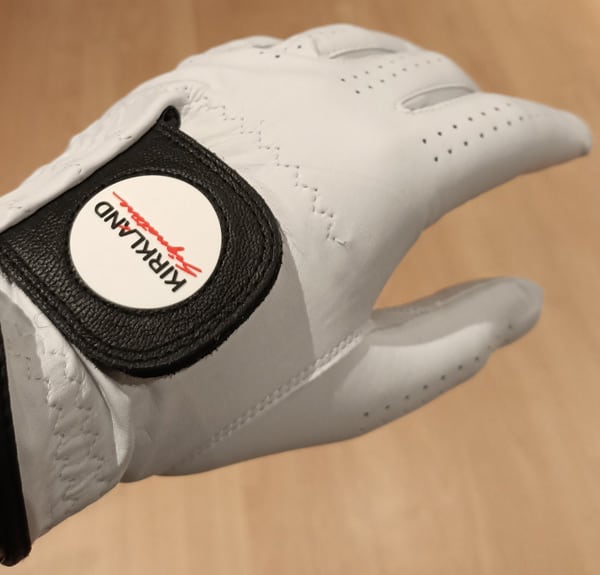 So I wanted to review the gloves objectively, without considering the price. Can the Costco golf gloves can stand up to the premium priced gloves in quality?
The following are the main factors that I wanted to take into account when reviewing these gloves:
Material
Durability
Fit
Looks
These 4 factors combined are for me what makes a great golf glove. Does it feel good, does it last well, does it fit as expected, and does it look good?
Well, let's get into it:
Costco golf glove material
The Costco gloves are made from genuine Cabretta leather. This may not suit everyone since it's made from the skin of sheep.
But most premium golf gloves are made from cabretta leather as it produces a wonderfully soft feel. It also provides some give so that the glove can stretch to the shape of your hand.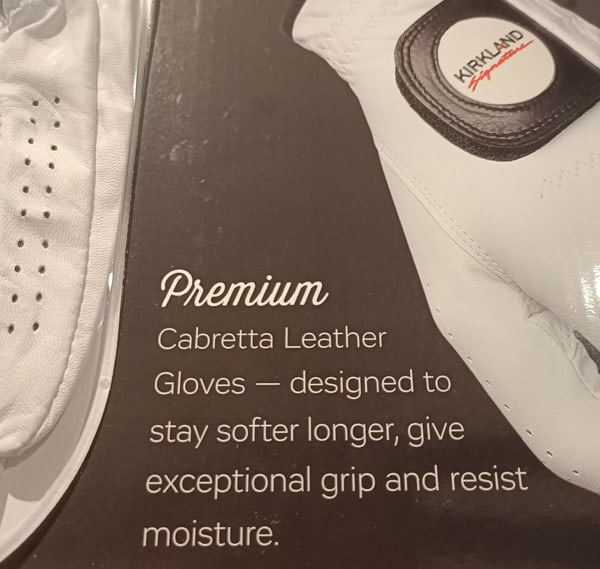 I have to say that to me the Costco glove matches the feel of any of the top brand premium golf gloves.
The finish quality also appears to be good and the leather feels like a good thickness. It feels perhaps slightly thicker than some premium gloves but after hitting a few balls it soon wears in and feels great.
Costco golf glove durability
The Kirkland Signatureglove has proved to be excellent for durability. I've hit hundreds of balls and played several rounds of golf with the same glove.
I think the Costco glove is very slightly thicker than some of the other premium leather golf gloves. And I believe this helps it with the durability.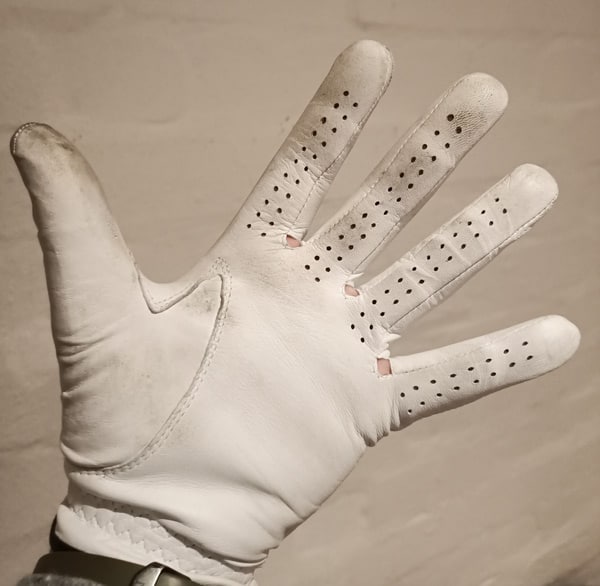 In particular, I tend to have a problem with golf gloves wearing on the thumb. But the thumb has held up really well with the Kirkland gloves.
Like any leather golf glove, the Costco glove does stretch somewhat. But no more than expected. Just be sure to chose a size that is slightly too small at first that will then stretch a little.
All in all, I have to say that in my experience, the Kirkland Signature Costco golf glove is just as durable as any other premium leather golf glove.
Are Kirkland golf gloves any good?
So here's the question everyone's been waiting for! Are Costco's Kirkland golf gloves any good?!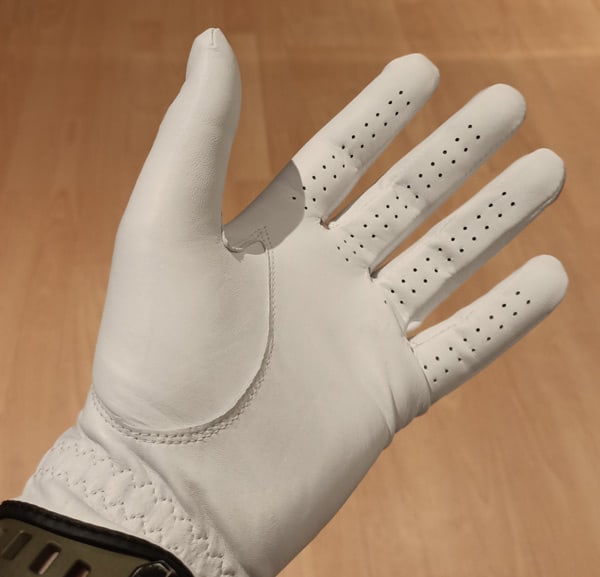 Well, in a word, yes!
Having used the costco gloves extensively for months now, I can honestly say that in my opinion they're as good as any glove out there!
When I first picked up a pack I wasn't expecting that much. I'd heard that they were an excellent glove but I though maybe they were like a premium brand's cheaper offering. But they're not, they're just like a premium glove!
I would go as far as saying they are a premium glove. The only think they lack is the branding that so many people are used to.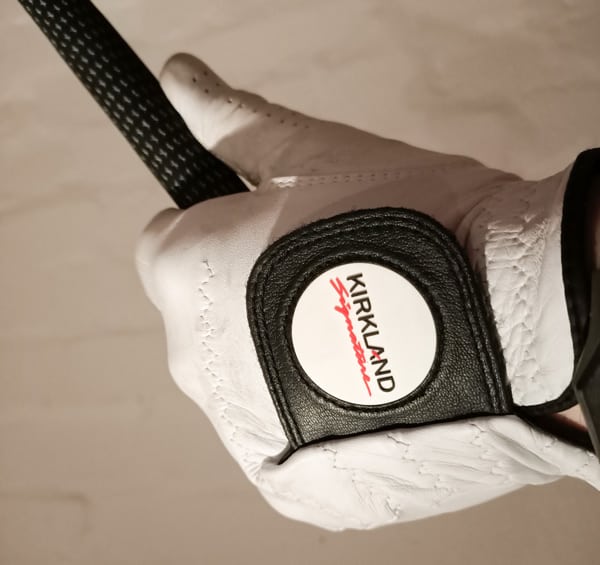 If you can overlook the lack of a big brand name, then you're getting excellent value for money. For me, the gloves worked out at less than £6/glove. That's half the price of a leading brand's premium glove!
What's more they offered excellent durability which came at no cost to feel.
Kirkland golf glove sizing
I have heard some people online saying that the Kirkland golf glove plays slightly larger than standard. But for me, this hasn't been the case. I chose the same size that I would normally (M/L) and it fit me perfectly.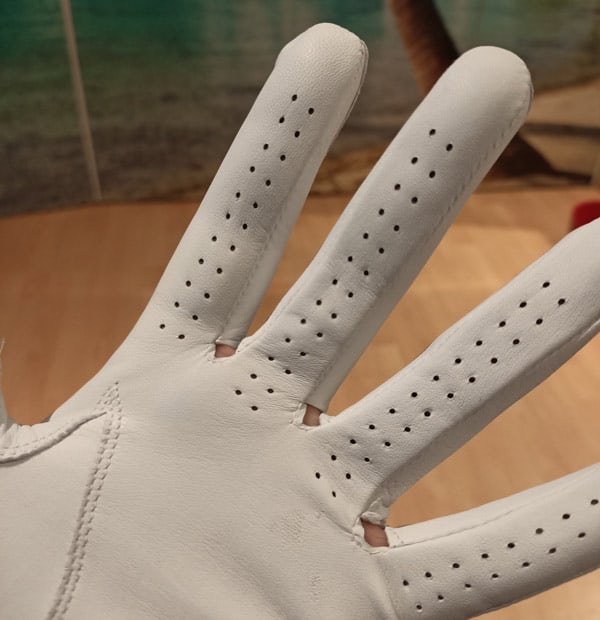 Some people mentioned that the glove stretches a little bigger but this is the case with any cabretta leather golf glove. And I haven't found the Kirkland to stretch more than the others.
In fact, I've found that they stretched a little less than some I've used. Just be sure to choose a size that will be slightly too tight at first and they will wear in perfectly.
Kirkland signature golf glove size chart
The Kirkland signature golf gloves come in the same sizes as men's golf gloves. The sizes offered are the following:
Small
Medium
Medium/Large
Large
X-Large
In my experience, the gloves play to size. On the back of the packaging there is a size chart, see the image below: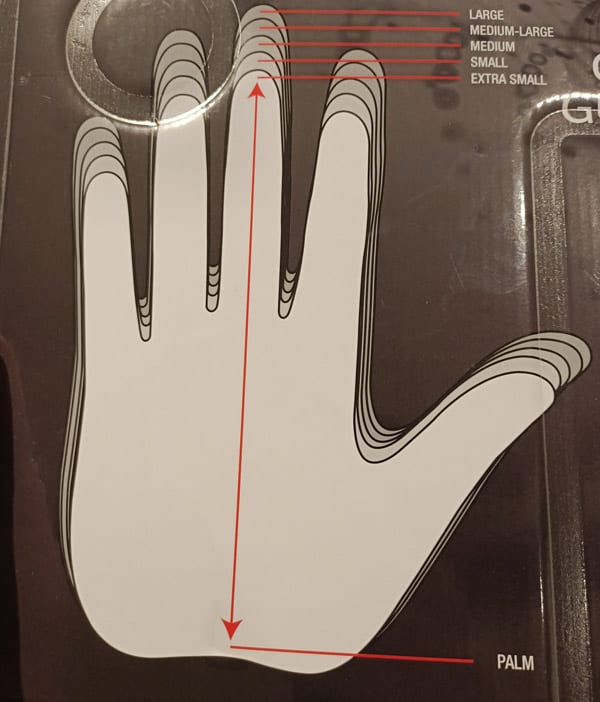 I'm not sure how useful the size chart is to be honest. But if it's your first time buying golf gloves then it could be useful to help you figure out the best size for you.
One downside is that you can't try the gloves on before buying. For me, I just got them in my normal size (M/L) and they worked out well.
Costco womens golf gloves
The Kirkland Signature golf gloves by Costco do not mention a gender on the pack. So I would say they're unisex. I don't see why they wouldn't fit a woman.
The only issue that women could have is with the lack of smaller sizes. Most women's golf gloves go down to an extra small but the Costco ones only go down to a small.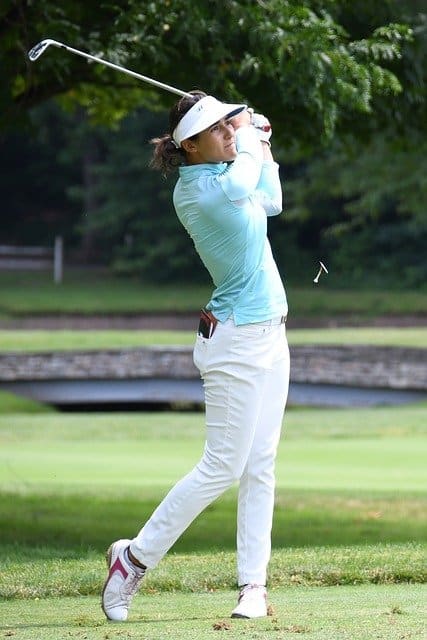 Additionally, the sizing in Women's gloves is typically smaller, even given the same name. For example, a small Men's is roughly equivalent to a Medium Women's.
For that reason, the Kirkland Signature golf gloves may not be suitable for Women with a (Women's) glove size smaller than Medium. If you are Medium or bigger then I don't see why you can't use the Costco gloves.
Maybe in the future Costco will bring out a glove specifically for women. Especially, if the current gloves sell well. But for now, there's just one option.
Should you try the Costco Golf Gloves?
In conclusion, I think these gloves are definitely worth a try. They more than surpassed my expectations in terms of feel and durability.
The only downsides in my view are the lack of big name branding, and the limited sizes (at the small end). If you can get them in your size and you don't mind the Kirkland branding then I can highly recommend them.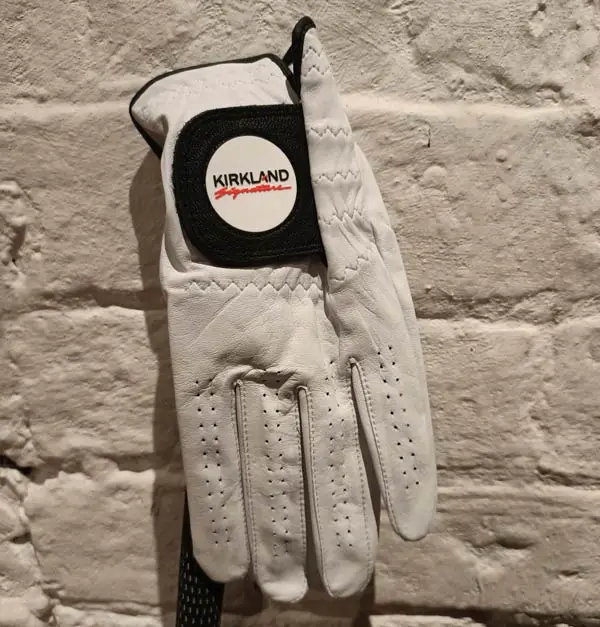 At less than 50% the price of premium brands, the Costco golf gloves offer unrivalled value for money. For me, playing golf is expensive enough, so I'm more than happy to save some money on these gloves.
Happy golfing!